Ewa Z. Bauer-Furbush, P.E., M.ASCE, NAC, chief engineer of Golden Gate Bridge, Highway and Transportation District, has been honored by ASCE as the 2019 Outstanding Projects And Leaders award-winner in management.
The ASCE OPAL awards honor outstanding civil engineering leaders for their lifetime accomplishments. This year's OPAL winners will be recognized at the 2019 OPAL Gala, March 14, in Arlington, VA.
Bauer-Furbush has devoted her past 20 years to the improvement of the Golden Gate Bridge. A global icon, the Golden Gate Bridge was built in 1937, without the benefit of modern technology. Bauer-Furbush's innovative and meticulous approach to improving the Bridge is evident throughout the many construction upgrades during her tenure. She has implemented the first three phases of the Bridge's seismic retrofit, built the world's longest bridge movable median barrier, and is currently overseeing the installation of the physical suicide deterrent and wind retrofit on the Suspension Bridge. Additionally, Bauer-Furbush manages the other engineering projects for District's bus facilities and ferry terminals. The design of the final phase of the Golden Gate Bridge retrofit, the retrofit of the iconic Suspension Bridge, is being finalized under Bauer-Furbush's watchful eye and high standards.
In 2006, the Golden Gate Bridge Seismic Retrofit Design and Construction Project was named one of the top nine projects of the 20th century by Applied Technology Council and Engineering News-Record as part of their "Celebrating 100 Years of Seismic Structural Engineering and Construction" in the U.S. Engineering News-Record, for their story about "Women at Work" in construction, chose Bauer-Furbush to represent women engineers working for public sector owners.
Bauer-Furbush brings to all her projects her expertise in bridge engineering and construction management, and an understanding of federal and state regulations governing financing of public works and capital improvements. She works with government entities, contractors, legislators, and funding partners to complete the important tasks of improving the Golden Gate Bridge, while it is continually in use by drivers, pedestrians, and bicyclists.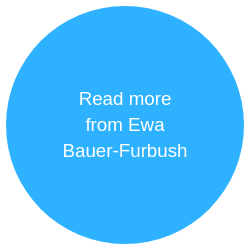 From her days as a bridge design engineer with private engineering firms and senior transportation engineer with the California Department of Transportation, Bauer-Furbush has demonstrated an exceptional ability to form partnerships. For this she frequently credits mentorships during her initial days in the United States. In 1997, she began hosting students from engineering programs, and then faculty, and her presentations always inspire and challenge.
Bauer-Furbush coauthored (with Cindy L. Menches, her mentee) the paper "Why We Need Renaissance Engineers: Golden Gate Bridge Seismic Retrofit Phase II Case Study," which was published in ASCE's Journal of Construction Engineering and Management in 2011.
Her enthusiasm for engineering, construction, and their organizations – from the Moles to ASCE to the National Academy of Construction – is infectious and has prompted many awards, including (for Seismic Retrofit Phase II) the California Preservation Foundation Trustees Award and two Outstanding Civil Engineering Achievement Awards (OCEA), one from ASCE and one from ASCE's San Francisco Section.
Bauer-Furbush earned an M.S. in civil engineering, summa cum laude, from Swietokrzyska Polytechnical University in Poland, and a postgraduate diploma in residential architecture from Warsaw Polytechnical University in 1983. She is a registered professional engineer in California.
Learn more about the 2019 OPAL Gala.