Jose Aguilar had an idea.
A transportation engineer at Psomas in Tucson, AZ, he wanted to inspire the students in his hometown with a civil-engineering competition similar to the STEM activities and competitions that he loved when he was a teenager.
It was a nice idea, a good idea. But for the time being, just a concept. And this is where most people usually stop – at the idea stage.
Jose Aguilar, however, is not like most people. And this is why ASCE has honored Jose Aguilar as a 2019 New Face of Civil Engineering.
Aguilar took his idea and made it a reality, launching the PVC Bridge Competition, with the help of MESA (Mathematics Engineering Science Achievement) and his local ASCE Younger Member Group. The competition challenges pre-college students to design and build 6-foot bridges that can hold 100 pounds, using PVC pipe.
The annual competition, now in its third year, has expanded to middle school and high schools across Arizona, reaching students from Tucson, Phoenix, and the surrounding areas.
"Kids learn by doing. You go to class and do a math problem, but you don't see it in the real world," Aguilar said. "With this competition, the kids get to come up with the design, build it, and see if it works.
"It's amazing to see what they do. It's so neat to see how much the students can push the envelope through their innovative ideas."
Growing up in a lower-income part of South Tucson, there were not many opportunities available for Aguilar. That's where MESA (the same STEM program now supporting the PVC Bridge Competition) really helped. He attributes much of the civil engineering career he now enjoys to those MESA mentors and experiences, so it's no coincidence that he wanted to give back and provide those same opportunities to his local community.
"It opens students' eyes to what careers are out there," Aguilar said. "I can't stress it enough – it's so important to have those sorts of clubs and competitions in schools and have access to role models to act as mentors."
For Aguilar, it's especially rewarding because he knows he is living proof of the value and benefits of these outreach activities.
"Just for a student to be able to see that, 'Oh, this guy went to my high school and now he's an engineer building roads for my city,' it brings a reality to what they're doing in class," Aguilar said. "When they see the applications of it, I think it really motivates them to work at it. It gets the gears going in their head and shows them a path to engineering."
Aguilar's knack for creativity and innovation extends into his personal hobbies as well.
A few years ago, when drones hit the commercial market, Aguilar – a self-described fan of gadgets and new technologies – bought one for himself to experiment with and explore the possibilities.
It wasn't long before he noticed the potential and earned his license as a drone pilot. Soon thereafter, he'd translated it into an innovative business driver for his career at Psomas – stitching drone images together to get a complete picture of a convention center parking lot to study the percentage of parking spaces before and after a local hockey game, or recording an intersection to study the current flow of traffic.
"Instead of having people out there counting cars, we use 'screenshots' at specific time intervals," Aguilar said. "It helps provide a visual because as engineers we like numbers, but if we're talking to clients, it's easier for them to understand if they can see it visually.
"It's been an incredibly useful tool, because not only does it save a lot of money and time for us, but it also helps us provide a better deliverable. We've been getting a lot of work through having that capability internally in our office."
Born and raised in Mexico City, Aguilar and his family moved to Tucson when he was 11 years old. The city that adopted him and saw him learn how to drive and go through college became his new home.
"I've seen Tucson grow for about 15 years," Aguilar said. "And it's been awesome to see the impact that our projects have on the community. You've helped their commute or helped how communities get connected through infrastructure. It's very rewarding."
Aguilar started with Psomas as an intern five years ago, contributing to a massive, soon-to-be-completed Ina and I-10 traffic interchange project. He also was part of the team to work from start to finish on the Grant Road roadway widening project.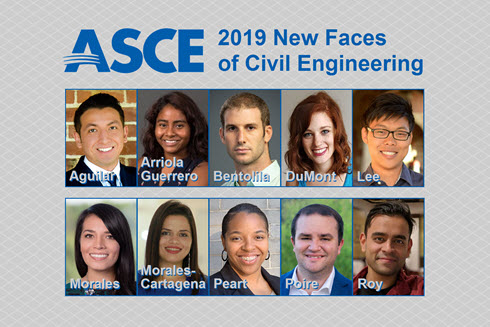 "The most important thing is knowing what the community needs. Sometimes we get so sidetracked into the things we think the community needs," Aguilar said. "What I like about civil engineering and transportation is you have town meetings where you're talking to the people who live in that area and they can tell you, 'This intersection isn't working,' and you say, 'OK, I see your point, let me look into that.'
"It's a very crucial part of the project, being able to connect and know what the community needs."
Clearly, helping the community – whether it be a new student competition or through new infrastructure – comes second nature to Aguilar.
"I had a lot of people help me through my career. I didn't do it all by myself. I'm here because of them – family, clubs such as MESA, mentors. That's why it's very important for me to do these things: give back and inspire the next generation of engineers."