Below everything in Columbus, Ohio, there is the tunnel. Beneath buildings, bridges, interstate highways, railroads, and even below the Scioto River. And it is making a huge difference.
The new OARS-OSIS Augmentation & Relief Sewer has been honored by ASCE as a finalist for the 2019 Outstanding Civil Engineering Achievement award, the Society's preeminent project honor.
All five OCEA finalists will be recognized at ASCE's 2019 OPAL Gala, March 14, in Arlington, VA, with the OCEA winner revealed at the end of the event.
The OARS tunnel, designed to reduce combined sewer overflows in downtown Columbus for a 10-year wet weather flow prediction, is the backbone of the Columbus Wet Weather Management Plan. Nearly two billion gallons of combined sewage overflows receive treatment instead of ending up in the river each year. This benefits over one million people and brings the city into compliance with the Clean Water Act.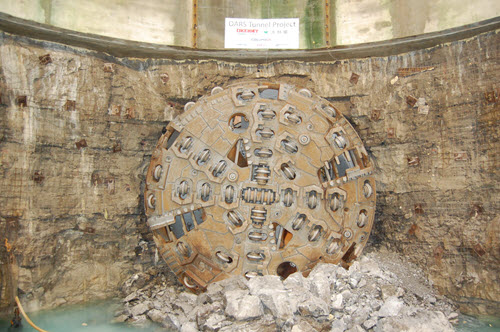 At a cost of $370 million, the project is the largest capital improvements project in Columbus's history. Not only does the 20-ft-diameter tunnel provide relief to the existing 82-year-old Olentangy-Scioto Interceptor Sewer (OSIS), but it also eliminated 13 downtown overflows and made development possible along two landmark parks, helping transform the old riverfront into a vital public green space.
Tunneling the entire relief sewer allowed the system to become operational eight years earlier than what was originally planned, which was four phases of what is called open-cutting. The additional storage volume provided by the larger tunnel also meant no future need for above-ground storage structures or a high-rate treatment system, and this saved an estimated $175 million.
Lead design firm DLZ developed a way to tunnel through the karstic limestone found at the site, and while this prevented surface settlement, it made for a very difficult setting for the use of the high-pressure groundwater inflows. A "reverse-flow grout procedure" also had to be created to replace rock cutters during drilling.
But the OARS tunnel gives conveyance capacity for all storms, handling peak flows of up to 1,700 million gallons per day and making the Columbus Department of Public Utilities, and the citizenry, happy indeed. In fact, there were no surface impacts throughout.
Complete with shafts open to the fresh air, the tunnel is 180 feet below the city and extends from the Arena District to the Jackson Pike Wastewater Treatment Plant.
Learn more about the 2019 OPAL Gala.