This article is part of the "Equity and Infrastructure: How Infrastructure Influences Social Equity," series that is being published by Civil Engineering magazine and the Civil Engineering Source.
The water crisis that rocked Flint, Michigan, several years ago turned a once mighty industrial city — the cradle of General Motors — into a tragedy, a city that other cities didn't want to emulate. And while the crisis impacted the entire city, many of the affected neighborhoods were predominantly Black and low-income (according to the U.S. Census Bureau, the city is 54.1% Black, and 38.8% of the city's residents live below the poverty line).
The Flint water crisis initially unfolded in 2014, when the city shifted its water supply from Lake Huron to the Flint River to save money. But the new source of water was highly corrosive and caused lead from old pipes throughout the system to leach into the water supply. By 2015, this had led to a significant increase in lead exposure in Flint's drinking water — up to 40% of the city experienced elevated lead levels. Residents were forced to resort to bottled water throughout the crisis. At least nine people died of Legionnaires' disease, a waterborne form of pneumonia.
"Looking back at what happened in Flint, some of the immediate reaction, was 'What happened in Flint was a really unique situation, and that would never happen in my community,'" says Elin Warn Betanzo, P.E., the founder of Safe Water Engineering LLC in Royal Oak, Michigan, a suburb of Detroit. Betanzo's firm helped uncover the water crisis in Flint in 2015. As time passed, however, there was a shift to people saying, "'I wouldn't want to risk that happening in my community,'" Betanzo says. "And (now) there's been a shift toward more proactive work regarding lead in water."
On the whole this has led to a much-needed push to eliminate lead pipes in municipal water systems. But funding challenges for this effort remain throughout the country.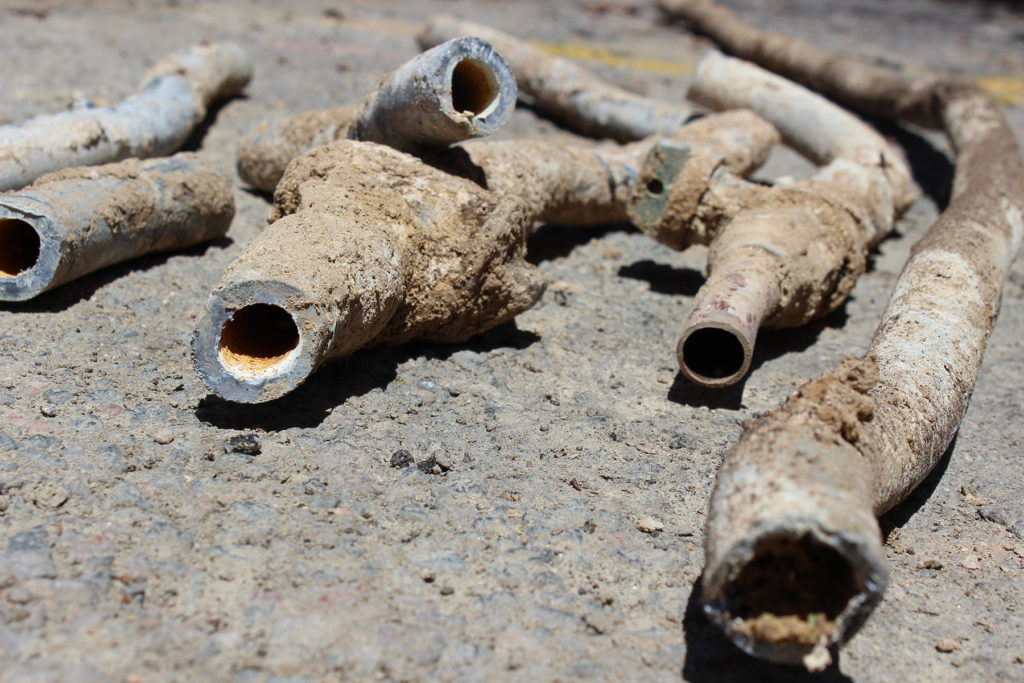 Why lead?
Lead service lines were common in construction during the decades before World War II. Lead is soft, Betanzo says, so lead pipes move with "the ground freeze/thaw cycles so (there are) fewer breaks and leaks." And lead also lasts a long time. On the downside, Betanzo says, "You cannot see, smell, or taste lead in water, so when it does corrode, no one complains."
But we've known since ancient Roman times, she adds, that lead is also a poison. According to the U.S. Environmental Protection Agency, lead can have a variety of negative health effects. In children lead exposure can lead to behavior and learning problems, lower IQs, and hyperactivity. Lead can also adversely affect fetal development in pregnant women and cardiovascular performance in all adults, increase blood pressure and the incidence of hypertension, decrease kidney function, and cause reproductive problems for men and women. There is no safe level of lead exposure.
Lead use peaked during World War II, when the material was diverted for use in ammunition and other military supplies. Four decades later, a 1986 amendment to the Safe Drinking Water Act banned new lead pipes — although it did not require that existing lead pipes be removed. In 1991, the EPA issued the Lead and Copper Rule, which required utilities to take corrective action if lead levels exceeded 15 parts per billion in more than 10% of customer taps. The corrective action many utilities chose was to add phosphate-based corrosion inhibitors to the water rather than replace pipes, a more expensive option.
Many cities lack good records on the numbers of lead pipes they have. Lines that extend into customers' homes are considered the responsibility of homeowners, so estimates vary but range from 6 million to 10 million lines nationwide.
According to a 2016 American Water Works Association journal article, about 7% of homes still have lead service lines, and these serve about 15 million to 22 million Americans.
While lead lines are present in many old homes in both low-income and affluent neighborhoods built before World War II, the remaining lines are largely located in urban areas and tend to be "concentrated in areas of Black and brown communities," says Betanzo. And it's urgent to remove lead lines in such communities, she says, because they already typically have so many health and educational disparities, and the lead "compounds them greatly."
"And these are the same communities that have the fewest resources to replace the lead service lines" themselves, she adds.
Various approaches
Utilities often change from one water supply to another, as Flint did, but such changes require reworking the complex cocktail of chemicals used to coat lead pipes to mitigate corrosion. Even when these changes are carefully planned — they were not in Flint — there can be problems. "If you change from one corrosion-control treatment to another, it can mean dissolving one layer of protection to replace it with another," says Betanzo. "There could be a high lead release in the middle."
Municipalities have also been replacing lead lines — some more proactively than others — but not always systematically. For years, when water mains needed to be replaced, utilities would also replace the lines that ran into neighborhoods with another material — often plastic or copper — but those replacements generally stopped at the curbs. Property owners were then responsible for the portions of the lines that traveled from curbs to their homes.
"The practice of partial service-line replacement greatly increases the risk of lead exposure in the home," says Betanzo, "because you're cutting a lead pipe, you're excavating, you're shaking off any corrosion control on that pipe, and especially if you're connecting it to a copper pipe — a dissimilar metal — you create a galvanic corrosion connection that accelerates lead dissolving in the water."
In the wake of Flint, municipalities across the country are moving with greater speed to address their lead lines. According to Tom Neltner, the chemicals policy director in the health program at the Environmental Defense Fund, 42% of lead pipes across the country are in just five states: New Jersey, New York, Ohio, Michigan, and Illinois.
New Jersey Gov. Phil Murphy signed legislation at the end of July to "require the inventory, replacement, and financing of lead service lines throughout the state within the next 10 years." And the Illinois legislature also passed a bill requiring lead lines be replaced.
And in 2018 Michigan became the first state to require the removal of all lead pipes — by 2041. It is replacing 5% per year beginning this year. Last year, the state announced $102 million in funding for the replacements in disadvantaged communities.
Likewise, Denver began an aggressive program to remove lead pipes for up to 84,000 homes within 15 years, financed largely through a combination of hydropower sales, water service fees, and bonds; Denver Water is also providing free filters for affected households.
Louisville, Kentucky, overhauled its lead pipes at the end of last year. (Read "Louisville Water completes its multiyear lead pipe replacement project" in Civil Engineering.) And Newark, New Jersey, managed the remarkable feat of replacing all of its more than 18,000 lead lines in just a few years at no cost to residents.
Necessary changes
Flint provided engineers and water policy experts a significant lesson in the importance of listening to the communities that their work impacts. "Having two-way open communication is essential for building trust," says Betanzo. "We've got lots of opportunity to improve in that."
The Flint lead crisis also exacerbated a growing sense of distrust among residents in many places about the quality of their water. "When people don't trust their tap water, they turn to bottled water and sugary beverages like sodas and juice," says Peter Roquemore, the project manager of the water program at the UCLA Luskin Center for Innovation. This shift, besides its obvious environmental and health impacts, can also create financial burdens for residents.
Perhaps the biggest challenges remain the replacement cost of the lead lines that remain — and political will. The EPA estimates that lead service lines will cost an average of $5,000 per household to replace, Neltner says, but that figure is reported be as high as $26,000 in Chicago, he adds. Plans to replace the city's 400,000 lead lines at that cost have gotten little traction.
This spring, the U.S. Senate passed by an 89-2 vote a bill that would provide $500 million over five years to replace lead pipes.

Roquemore says a fully funded replacement program — once it can be determined what that amount should be — is the most equitable approach. Partial subsidies or rebates would still lead to challenges for low-income households that cannot afford the upfront costs. "We need a balance of requirements and funding to get the lead pipes out," offers Betanzo. "It's very expensive. Communities absolutely need funding support from state and federal governments to do this. (Utilities) cannot do it through rates, especially when lead service lines are concentrated in our low-income communities."
Mixed messages from Flint
In August 2020, the city of Flint said it had replaced nearly 9,700 lead pipes and had 2,500 households left to inspect. According to the EPA, Flint's water system currently meets regulatory criteria for lead and copper. A 2020 Politico investigation found that "after nearly $400 million in state and federal spending, Flint has secured a clean water source, distributed filters to all residents who want them, and laid modern, safe copper pipes to nearly every home in the city that needed them."
But Flint water activist Melissa Mays — one of the plaintiffs in litigation the state settled in August 2020 that requires the state to pay Flint residents a total of $600 million — says residents are still contending with poor health, expensive home plumbing fixes, and bottled water. She maintains that the entire water system — including the mains — needs to be replaced.
"It's simple," Mays says. "You broke it. Fix it. Fix what you broke."
Read all the pieces in "Equity and Infrastructure: How Infrastructure Influences Social Equity," and "What can civil engineers do to prevent another Flint water crisis elsewhere?" from the Civil Engineering Source.