In a moment now sadly rich in irony, University of Washington professor Kate Simonen attended a carbon neutral conference in Los Angeles this past March and thought to herself, "I don't want to travel this much anymore."
The COVID-19 pandemic was still mostly impending in the United States. But for Simonen, it wasn't even the pandemic concerns.
"I was reflecting on my health, the time away from my family and my carbon footprint," Simonen said.
Nearly half a year later, Simonen's reflections have become new norms, as ASCE, like many other organizations and businesses, has pivoted quickly in the face of COVID-19 to host an array of conferences and events in a virtual format during the pandemic.
Among the calendar of newly virtual events: the ASCE 2020 Convention, Oct. 28-30, and the first-ever ASCE Virtual Technical Conference, Sept. 14-18, where Simonen will serve as a keynote speaker.
"It's exciting," said Simonen, who will speak about her work as the executive director of the Carbon Leadership Forum, a collective committed to reducing carbon emissions in the built environment. "We're challenged to radical experimentation, like, 'OK, we're not going to go in person, so what is it going to be like?'"
In the case of the ASCE 2020 Convention, the reimagined virtual event will still feature the latest Future World Vision "Megacity" experience, keynote speakers, a virtual exhibit hall and even a community happy hour.
"In the past, many new professionals, emerging leaders and international members may not have had the opportunity to attend the ASCE Convention in person," said Greg Scott, P.E., F.ASCE, chair of the Convention's technical program subcommittee.
"The virtual environment ASCE is going to deploy this October will make content on innovation, critical issues impacting the profession today and global visions of the future of engineering much more accessible. This year many more members will be able to actively participate in presentations and discussions on topics that will shape their future for years to come."
Meanwhile, the ASCE Virtual Technical Conference – or V-Tech – features a technical program that collects experts and speakers from different ASCE Institutes, many of which have had to reschedule individual conferences planned for 2020.
The Structural Engineering Institute, for example, was able to turn a sample of the originally scheduled in-person Structures Congress 2020 into a one-day virtual event this past spring. SEI has continued hosting virtual events and social media programming this summer.

Taking on my second Structures Congress in my NYC apartment! @ASCE_SEI @SarahSladek #Structures20Virtual pic.twitter.com/KBwucleeEZ

— Maria Kozdroy (@mkozdroy) April 7, 2020
Maria Kozdroy, EIT, A.M.ASCE, a structural engineer for AECOM in New York City, would not have been able to travel to the planned in-person version but was able to attend the virtual Structures Congress. She said the opportunity to attend a variety of virtual events has been one of the silver linings to what has been a very strange year.
"I'm finding these events, and I like it because I'm able to just join. I don't need to go anywhere. I can just join whatever I see online," Kozdroy said. "It's like, 'Oh, that's more information for me to learn!' I like it."
The Environmental and Water Resources Institute Low Impact Development Conference successfully went online last week. The ASCE Utility Engineering and Surveying Institute has adapted its 2020 Pipelines Conference into a virtual experience, Aug. 10-13.
The ASCE Construction Institute was slated to host its annual CI Student Days this weekend. With the coronavirus rendering that plan impossible, the Construction Institute innovated, instead creating the first CI Student Days Virtual Experience.
The virtual experience offered three webinars featuring sponsors and professional partners discussing jobs and projects they do and opportunities available to students with their companies and agencies; three webinars focusing on student professional development ("What ASCE can do for you and career paths in construction," "Diversity and inclusion," and "Engineering Ethics"); and a seventh webinar featuring a conversation with CI's young professionals group discussing career transitions and early experiences in the industry.
(Each CI Student Days webinar is available to access on ASCE Collaborate.)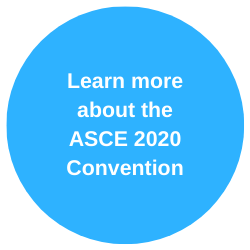 "To be honest, I'm not 100 percent used to having virtual meetings. I still prefer in-person meetings because of the strong engagement and participation that comes with them. But I felt like the CI Student Days experience was really good," said Jose Wu, S.M.ASCE, a civil engineering student at City College of New York and first-time CI Student Days attendee. "Virtual meetings can be recorded and decrease the need to commute. I got to meet people from around the country and connect with different companies."
Ultimately, Simonen said, the rise of virtual events is all about what you make of it.
"We can be sad about what we lose, but we can also be optimistic about what we gain," Simonen said. "We can make some connections that we wouldn't have made and do it with lower personal, financial and environmental cost."
Explore the calendar of upcoming ASCE virtual events.