Civil engineering graduates, rejoice. The U.S. Bureau of Labor Statistics is on your side.
The 2016-17 Occupational Outlook Handbook projects an 8 percent increase in civil engineering employment from 2014 to 2024.
"As infrastructure continues to age, civil engineers will be needed to manage projects to rebuild bridges, repair roads, and upgrade levees and dams as well as airports and buildings," according to the handbook.
Meanwhile, the Labor Department's latest jobs report, issued May 5, showed the lowest national unemployment rate – 4.5 percent – since 2007.
So the numbers are optimistic. But what about the view from the civil engineers behind the statistics?
ASCE News reached out to a variety of students and industry leaders to get their perspectives on the 2017 civil engineering job market.
The job landscape from the student's perspective
Joseph Sojka, A.M.ASCE, Roger Williams University, class of 2017:
"I have found many companies that are hiring. I also was able to receive a job offer on my first application sent out.… From my own experience and those of my roommates and friends, there have been no difficulties finding job openings and landing interviews."
Teresa Villalon-Camacho, S.M.ASCE, Florida Atlantic University, class of 2018:
"As an undergraduate student, I am rarely concerned about whether I will have a job when I graduate because of how in demand the younger generation of civil engineers are in the work force. The majority of my classmates had jobs already secured before they graduated and some had difficulty choosing between different job offers. Many had internships that were then turned into their official engineering job. So my impression of the job market for CE graduates is that it's a field of open opportunities."
Brad Clawson, S.M.ASCE, Brigham Young University, class of 2018:
"In previous years, it's been harder to find internships and get interviews, but this year professors are actually having a hard time holding onto students to help with funded research because a lot of students [already] have internships. So, I'd say the job market is pretty good, but it's also competitive because so many students are applying because of all the opportunity out there."
Torynne Hart, S.M.ASCE, University of California, Davis, class of 2018:
"I'm fortunate to be able to say that I haven't had many problems finding jobs or internships, and while I do know people who are still looking, I can think of a good handful of CE graduates who had jobs going into their senior year."
Jarrod Magouirk, S.M.ASCE, University of Tennessee at Chattanooga, class of 2017:
"I think that it is difficult/competitive. Anyone you graduate with is competition. Ultimately, we go to school to get a job. I am fortunate enough to graduate with a smaller class size of civil engineers. Chattanooga is a smaller market."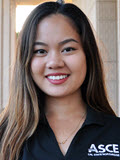 Nikki Zulueta, S.M.ASCE, California State University, Northridge, class of 2017:
"I think that the job market is really growing this year, and there is definitely a job out there for everyone. Most employers are eager to hire young, fresh minds into the work force, and there is definitely room for us. So far, upon graduating I've been offered two full-time positions, which I unfortunately had to turn down because I have decided to go to grad school first. There is competition, but there will always be jobs for civil engineers.… It's definitely a good time to be a graduating engineer."
Jared Nash, S.M.ASCE, University of Minnesota Duluth, class of 2017:
"I applied to be an Air Force Combat Systems Officer (essentially a navigator and weapons manager in a plane), and I selected. They tend to prefer people with engineering degrees. When it comes to attaining an EIT position, I've noticed it's competitive. If a person isn't willing to relocate, they probably won't be considered for the job."
Corbin Coker, S.M.ASCE, Mississippi State University, class of 2017:
"It has been fairly easy to find interested companies. I have had interviews with six-plus companies. I think it's a great outlook. There are a ton of jobs out there.… It's difficult if you are looking for a dream job in a dream location. Those rarely are available, especially to entry-level positions. I have more experience than most entering the workforce and even I had a tough time finding it. Found the dream job but not the location. That I can work with. Very happy with my experience looking."
The job landscape from the hiring perspective
Donald Flood, P.E., M.ASCE, vice president, marketing and communications, Mott MacDonald, Woodbridge, NJ:
"The job market for 2017 graduates in civil engineering is still very hot. Most engineering graduates had multiple offers before the start of the spring semester, making the landscape fairly competitive for employers like Mott MacDonald."
Mahmoud Halfawy, Ph.D., P.Eng., PMP, M.ASCE, president and CEO, Infrastructure Data Solutions Inc., Regina, SK, Canada:
"I predict a strong job market for civil engineering in 2017 and beyond. I think the demand for fresh, young, skilled engineers will grow significantly in the coming few years. The increasing investments in infrastructure and construction projects have created a high demand for civil engineers across all sectors of the civil engineering profession."
Terry Neimeyer, P.E., ENV SP, BCEE, F.ASCE, CEO and chairman, KCI Technologies Inc., Sparks, MD:
"Revenues are at record highs in most consulting firms, and the main issue is finding the people to do the work. Though KCI is looking for experienced project managers, good ones are hard to find and most are happy with their current employer. So, firms have to grow them by hiring new graduates and training them quickly.…
"In this economy, graduates should easily find jobs and at increasing salary levels.… We have over 100 posted openings for all levels of inspectors to project principals. We anticipate increasing our revenues in 2017 by double-digit numbers, which means more jobs."
Paul Boulos, Ph.D., BCEEM, Hon.D.WRE, Dist.D.NE, Dist.M.ASCE, NAE, chairman, CEO, and president, Innovyze Inc., Broomfield, CO:
"The job outlook is terrific! Managing urban areas is becoming one of the most important development challenges of the 21st century. Lots of opportunities for our great civil engineering profession.…
"Recruiting is a core competency for any company. Therefore, talent is the most crucial competitive advantage for any company.… We are always hiring talent. It is a neverending activity. We have a unique culture and value proposition: our engineers will have the opportunity to do innovative work on challenging problems for a noble industry alongside great people. They will help build a better world for the greater good."
Anthony Bartolomeo, P.E., F.ASCE, president and CEO, Pennoni, Philadelphia:
"Our experience with recruiting civil engineers is that there is currently high demand from the marketplace, and competition for candidates is strong. Candidates can be selective with choice of employer. We have the same experience with co-ops and interns….
"We are in the final stretch of the recruiting process for Spring 2017 graduates. Most of our positions have been finalized, but there are some still in progress. The process has been competitive, especially around compensation."
David Odeh, P.E., S.E., F.SEI, F.ASCE, principal, Odeh Engineers, Providence, RI:
"I would say the job outlook is excellent, probably better than it has been in a long time – not just in local areas that have been very economically prosperous but really across the country.
"For those students who are qualified, those students who have the right academic background combined with some internship and practical experience, there are really great job opportunities out there right now."
On networking
Thomas Saldutti, A.M.ASCE, Villanova University, class of 2017:
"Although the internet and my school's job board offered plenty of job opportunities to browse, nothing beats a personal connection when it comes to getting your foot in the door. Even with good grades and solid work experience, I didn't stand out much when simply submitting online applications. Knowing someone who works at a company, through either personal connections or a networking event, provides is much more reliable. Otherwise, you become a small fish in a large pool of applicants regardless of merit."
Torynne Hart:
"Networking has been my biggest tool so far, and UC Davis also has a lot of other great resources I've taken advantage of. I've mostly found that when I put myself out there and express interest in a company or job, people are usually happy to do what they can to help me out."
Jarrod Magouirk:
"What got me in the door at my job was networking. I knew the guy who is graduating and I took his position. It also helped that I had met my boss at ASCE luncheons. We were not chatty, but he asked if we had spoken before. I think that was the difference. I think it is all about networking."
What the employer is looking for
Nikki Zulueta:
"While working at my internship, I've learned the value of, 'It's not what you say; it's how you say it.' Employers understand that each student is coming out with a basic set of skills, but there's a huge difference in knowing something and then being able to communicate it back to people.…
"Employers are looking for someone they can easily work together with. Engineering, especially civil engineering, is a collaborative effort, so when employers can see that you are a team player and you can communicate yourself effectively, it makes you all the more valuable."
"We would advise graduating seniors to pursue internships, attend networking events, and focus on getting their EIT completed. Getting involved in various societies where your interests lie can be valuable. Be open to different jobs in engineering, but when being interviewed focus on the needs of the interviewer.
Donald Flood, Mott MacDonald:
"When writing your resume, highlight your education, internship experience, and technical skills. Make sure it's error-free and clean. When applying for positions, be patient with companies. The hiring process can sometimes take time."
Ayman Abdelalhaleem, S.M.ASCE, Bradley University, class of 2019:
"From what I've come to notice in my experience with ASCE is that employers tend to favor students who are actively involved in the organization, because it shows that they have a legitimate interest not only in civil engineering, but in creating a more sustainable future."
Mahmoud Halfawy, IDS:
"Due to the nature of our business at IDS, we are constantly looking for civil engineers who have strong passion for innovative information technology applications to support the design, construction, and management of infrastructure systems. We see lots of civil engineering projects nowadays rely heavily on information and communication technologies, automation, and innovative materials and processes. With rapid advances and increasing demand of these technologies in our projects, the need for experienced engineers as well as tech-savvy young talents has never been greater."
Jarrod Magouirk:
"I ask professionals who are hiring – ones who come to the career fairs and are not always civil engineers – what they are looking for. The 4.0 GPA, the extracurricular stuff, work history, etc. – I have found that most people tell me that GPA does not matter, within reason (2.8-3.6). They want someone who is involved in things other than school. Ultimately, they tell me, they want people. Everyone who graduates with an engineering degree is smart and capable of learning. They want someone who is a person, who gets along with staff, and is willing to work."
Cristiane Queiroz Surbeck, Ph.D., P.E., ENV SP, F.EWRI, M.ASCE, associate dean for academic and student affairs, associate professor of civil engineering, University of Mississippi, president-elect of ASCE's Environmental and Water Resources Institute:
"Entry-level engineers' math and problem-solving skills should be solid, but, in the workplace, they won't be number-crunching all the time. They also have to communicate their crunched numbers. So the entry-level engineer has to be savvy at speaking clearly on the phone, presenting information in front of an audience, crafting informative and succinct emails, and writing detailed technical reports that include text, graphs, and tables."
Paul Boulos, Innovyze:
"We hire for attitude and train for skills. And we make it simple for smart people to do smart things. We don't recruit talent with stellar solo skills; we bring in employees who will weave their vigor and talents with others and who are passionate about serving and delighting our customers and helping them succeed as well as advancing our profession.…
"I think many of the best candidates understand that they need to be prepared for a lot of creativity and learning on the job. They need to have not just specific skills to do design but really a broad base of knowledge and critical thinking abilities to adapt to what is a rapidly changing industry."
On internships
Thomas Saldutti:
"I accepted a job offer this past March with a company that I previously interned with this past summer. After a great internship experience, it was always in my mind that I would like to return full time."
Joseph Sojka:
"Internships are highly valuable, probably the most valuable component next to the school's reputation."
Alfredo Ignacio Falcon, A.M.ASCE, Florida International University, class of 2017:
"I think it is a good job outlook for 2017 civil engineering graduates. If you have had at least one internship experience it will be fairly easy to find a job."
Words of wisdom
Cris Surbeck, Ole Miss:
"If traditional civil engineering jobs are hard to find, students should think broader and think about where else their civil engineering skills are useful. They can work in manufacturing or nonprofit organizations. They could someday run for public office and become senators or attend law school and become environmental attorneys. Another option is to get a Ph.D. and have the chance to be the professors of future civil engineers."
Jared Nash:
"Be flexible.… Never sell yourself short."
Brad Clawson:
"The strategy is apply, apply, and apply some more."
Nikki Zulueta:
"I think body language and good communication skills, like looking at them in the eyes, make a huge difference in how confident you portray yourself."
Jarrod Magouirk:
"I think the best thing to do is get involved in the community. Get involved with young engineers."
Christopher Medora, S.M.ASCE, Villanova University, class of 2018:
"I learned that it's best to apply for as many positions as possible. This allowed me to narrow down which companies had the best opportunities for me. I am trying to employ the strategy of consulting my professional connections to make myself aware of what companies are looking for a person with my qualifications."
Corbin Coker:
"Know your worth and where it applies to the company you are interested in. Never be afraid to apply if you don't meet every single qualification. Not many people ever meet them all. Show them you can learn and are willing to.…"
Cris Surbeck, Ole Miss:
"When you see a job ad, it's OK to respond to it if you don't meet all the qualifications. I would say that if you meet 60- to 70-percent of the qualifications, you should apply because employers can be flexible.
"When preparing for a job interview, be prepared to tell a story to illustrate your point. So, if asked about the construction job listed on your resume, don't just say it was a bridge project. Tell them the story about when you noticed that the rebar was being placed incorrectly, how you politely communicated with the iron worker about the discrepancy, and how you both did a high-five after the problem was fixed."