Marvin N. Smith, a hydraulics engineer who spent the bulk of his career at the Tennessee Valley Authority's Water Systems Development Laboratory, has died at 87.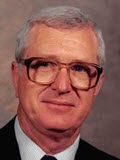 An ASCE Life Member, Smith, M.ASCE, spent over 30 years employed at the TVA lab in Norris, Tennessee. He was a U.S. Army Corps of Engineers officer, serving on active duty and in the reserves, and received a commission through ROTC.
He gave a notable presentation in 1970 at ASCE's National Water Resources Engineering meeting in Memphis, "Structure for a Howell-Bunger Valve in a Tunnel." Also known as a fixed-cone free discharge valve, the HB valve is used as a safety structure for its energy-dissipating capability.
Born in Fort Payne, Alabama, Smith received his B.S. in civil engineering from Auburn University in 1954 and his M.S. from the University of Tennessee in 1961.
Smith was a deacon at Central Baptist Church, Fountain City, for over 40 years. He was also a past president of the Halls High School PTSA, a Boy Scouts den leader, and in retirement served with Bicentennial Volunteers and Mission of Hope. An avid gardener, he shared his garden and orchard with friends and neighbors.