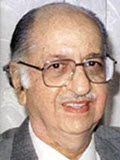 Distinguished Member Soli J. Arceivala, a pioneering environmental engineer in India and coauthor of a well-known instructional guide to wastewater treatment projects, has died at 91.
Arceivala, P.E., Dist.M.ASCE, established India's first postgraduate two-year academic program in environmental engineering at the Veermata Jijabai Technological Institute in Mumbai. He served as director of India's National Environmental Engineering Research Institute from 1967 to 1971, before becoming a regional adviser to the World Health Organization, largely in Turkey.
He established his own firm, Associated Industrial Consultants, in 1986, and carried out three World Bank-funded projects. He remained as chairman for eight years after selling the company to Montgomery Watson (later MWH Global).
Arceivala was coauthor of Wastewater Treatment for Pollution Control and Reuse, which remains in print since first published in 2006.
He was beloved by many of the students he mentored. Two of his former students Gajanan Sabnis and Vijay Gupchup organized a reunion in 2014 to honor Arceivala. Sabnis recalls, "I reiterated that he was always our 'guru' and higher than us, no matter what positions we attained."
In 1999, Arceivala earned ASCE Honorary Member status (now known as Distinguished Member), and in 2005 he was the recipient of the All-India Jal Nirmalata Award by the Indian Water Works Association.