Salvador Bentolila has traveled the world, engineering and implementing water solutions.
But it was a trip to Kenya last summer that really drove home the importance of his work.
"I had read about and seen images of how communities in Kenya lived and knew about all their issues with water, but it really made an impact on me when I went there and saw it with my own eyes," Bentolila said. "You see the little children carrying the water buckets. You see poverty on levels that were unimaginable to me until I was actually there."
Bentolila, a water/wastewater engineer for AECOM based in New York, has turned his various experiences around the world into a passion for clean water, and ASCE has honored him as a 2019 New Face of Civil Engineering.
"I see a lot of value in water, and every day I learn something new about the systems that surround it," Bentolila said. "What drives me is sharing with the world everything that goes on behind the scenes and explaining why some have access to clean water while others don't, so that everyone understands what makes it so valuable."
Bentolila's trip to Kenya came about through an Engineers Without Borders group at AECOM. Bentolila joined the team in February 2017 and quickly took on leadership roles, doing everything from fundraising to design work.
Last August was the game-changer, though: the onsite visit to install a rainwater harvesting system the team had designed for a Kenyan school serving 250 students.
"Giving them more access to clean water and making them happier was really impactful for me," Bentolila said. "You could see it right away. People in the community were constantly telling us, 'Thank you for being here and giving us your time.'
"All those things were really impactful. So you experience that, you bring it back with you, and now you have the ability to replicate it in other projects and cause even more impact."
While the trip to Kenya inspired Bentolila in new and important ways, it certainly wasn't his first experience abroad. He has essentially been a citizen of the world his entire life.
Born and raised in Venezuela, Bentolila studied civil engineering as an undergraduate in Haifa, Israel. In between, he spent a year in Shanghai, learning to speak Mandarin.
"It seemed a little bit crazy, but I thought, 'Why not give it a shot? It could be interesting,'" Bentolila said. "And we ended up staying a full year because of how much we liked it."
After completing his degree, Bentolila had job opportunities in both Panama and Israel. He decided to work as a design engineer for a water consulting firm in Tel Aviv, a city that won his heart.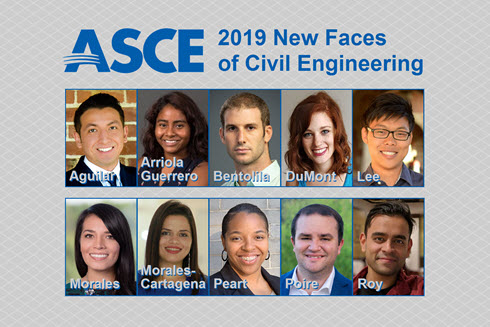 "It's super-diverse and small enough that you can walk everywhere," Bentolila said. "You can walk to the beach after work. It's an easy-going lifestyle. But people there are also very well-prepared professionally because Tel Aviv is a hub for startups and tech companies."
Because Bentolila wanted to develop his skills further, he left for New York and earned a master's degree from Columbia University in 2015.
With education, work experience, and perhaps most importantly, his service work in Kenya serving as a foundation, Bentolila is primed to pursue his ambitions. He's also sharing his knowledge as a mentor in ASCE's new Mentor Match program.
"Right now, I'm really passionate and motivated about working for the projects I'm involved in, which collectively serve to improve the water quality of New York City," Bentolila said. "We're upgrading the wastewater treatment facilities here in the city.
"Ultimately, I want to promote water conservation, sustainability, and improved water quality."
Connect with Salvador on Linkedin.