So, what exactly do engineers do when they go to work each day?
Andrea DuMont thought she knew.
After all, she grew up in a family of engineers. She aced her math and science classes. President of the robotics club in high school. Good grades in college. Civil engineering major.
And yet …
"I grew up thinking I would just sit in a cubicle, do some math, do some science, maybe make some designs, and that was engineering," said DuMont, a water resources engineer for Jacobs in Austin, TX.
"And now it's like, 'Oh, it's totally different.' I'm out onsite, I'm talking to contractors, I'm doing a risk assessment or a feasibility assessment, I'm doing design or construction management. It's all very different than what I had in my head."
Now DuMont is committed to help others know exactly what they'd be getting into – as in this civil engineering career is even more exciting than you thought! – through a variety of communications platforms. ASCE has honored her as a 2019 New Face of Civil Engineering.
"I think that if we're going to continue to have this diverse a pipeline of people with a whole broad range of experiences, then we're going to need to be more transparent about what engineering is and how it can be fun," DuMont said. "As a millennial myself – and with Gen-Z coming up in the industry behind us – we're looking for jobs that are fulfilling, that are meaningful and impactful for the community. I see engineering as an excellent way to benefit society."
DuMont shares her engineering life through posts on her Instagram feed, articles on her blog called "The Watermark," and in videos on her YouTube channel.
"At first I was just sharing pictures of the awesome projects I'd worked on," DuMont said. "And I noticed that my engineering posts got more comments and feedback than any of the posts of my cat. Instagram is known for food, and my food wasn't getting very many reposts."
DuMont started focusing more of her posts on those projects, so that people could feel the same excitement for her work that she does. She started writing about topics that felt relevant to engineers – especially young women – but maybe weren't being addressed elsewhere (a recent post, for example, discusses a pathway toward gender pay equity through her personal salary negotiation story).
And people are noticing. She now has nearly 9,000 Instagram followers. Dare we say, DuMont has reached "civil engineer influencer" status?
"Some of it is about what I do in my job, some of it is about our teams and our projects, and some of it is just what's happening in the industry," DuMont said. "I try to pick some of that for my posts each day, just to build awareness about engineering."
"I think we do ourselves a disservice by not promoting engineering for what it is, and how fun it is, and how fulfilling it is, and all the different nuances of what we do every day."
It helps, too, that what DuMont does every day as a water resources engineer for Jacobs is worth sharing with an audience over social media.
Her technical specialty is large hydraulics with dams and groundwater supply systems. Through the new Jacobs Solutions and Technology operations model, DuMont has taken on a leadership role, in addition to her regional project engineering responsibilities, for major projects in the region, including an emergency stormwater program in New Orleans and the Arbuckle Reservoir in south Texas.
"I'm in this really awesome position where I can solve very local problems with global solutions," DuMont said. "I get to be the problem solver, I get to be the integrator, the people person, I get to do the technical work. It's great having that sort of variety and working with amazing people. It feels really cool to be in the middle of it, orchestrating, moving the pieces around, being on calls. I like to be a hinge in that way."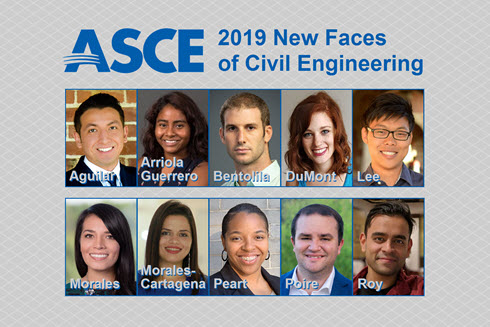 Perhaps the great irony in DuMont's newfound role as civil engineering communicator is that she isn't naturally comfortable in front of the camera or in the spotlight. She's developed her voice from behind the scenes.
"It all came from a place of trying to be inspirational to women and girls, and I think that goes a long way toward building confidence, because it's not just me posting pictures of myself," DuMont said. "It's me trying to use my awesome position in my company and my talent to encourage other women and empower them. I want to build some sort of normalization around women in the industry.
"So, it's a much bigger picture than me running an Instagram account. It's me trying to build a movement."
Connect with Andrea on Linkedin.