It's a telling character trait.
Some people run away from problems. Others seek out problems so that they can help solve them.
When it comes to climate change, Paul Lee falls definitively into the latter category.
"In college, I really wanted to do sustainability. And it was around the time that climate change issues were starting to become a big deal, and people were feeling very empowered to do something about it," Lee said. "I was exploring, 'How can we as young engineers get involved, being sustainable and combating climate change?'"
Lee's college explorations into making a difference have gone a long way. He's now a civil engineering associate for the Los Angeles Department of Water and
Power, specializing in renewable energy solutions. ASCE has honored him as a 2019 New Face of Civil Engineering.
"The likely culprit behind climate change is the burning of coal and fossil fuels," Lee said. "The best way to reduce your carbon output is to increase your renewables. So, I saw renewable energy as the biggest opportunity to make an impact.
"As I'm maturing in my career, I'm viewing sustainability as risk mitigation. Even if it isn't 100-percent that humans are the primary drivers, the risks are big enough that we have to do something about climate change. Similar to how we design for 100-year floods and for unlikely but devastating earthquakes, it's the rational thing to do."
While still early in his career, Lee already has taken leading roles in two large-scale renewable projects with LADWP.
The Beacon Solar facility is a massive system spread over 2,000 acres that is a centerpiece in the department's multiyear emphasis on renewable energy sources. Lee served as a field engineer and helped roll out L.A.'s first grid-scale battery energy storage system.
"I lived out there in the desert to see the completion of the facility and the start of this new technology," Lee said. "The battery storage is aimed at further integrating renewables, because obviously the sun doesn't shine at night. The battery's a tool to store energy during the day and dispatch it at night. Potentially one day we can have a 100 percent clean energy grid."
More recently, Lee led a key piece of the Los Angeles electric vehicle initiative. Electric vehicles reduce carbon emissions by a factor of two, but there remains public relations work to do to make people more comfortable with the idea. To help, L.A. wants to establish free EV charging stations all over the city.
This is where Lee comes in.
"My specific task was to figure out where to install these low-cost, pilot EV chargers," Lee said. "We tried to find these low-cost places where we could install chargers, locating certain power poles where we could tap into the existing transformer."
Serving as the project manager, Lee led a team that scouted and tested more than 300,000 power poles, whittling the number all the way down to 200 for possible demo sites.
"We had a whole screening process, developing the methodology," Lee said. "Access was important. But we also wanted to disperse them equitably into multifamily, commercial, and low-income areas."
It's the kind of collaborative project for which Lee's civil engineering master's program at the University of California, Berkeley prepared him.
"Sustainable, forward-thinking concepts," Lee said. "At Berkeley, they're training their engineers a little bit differently to start thinking more about energy in a systems-level, more interdisciplinary way. I think it's working out quite well, because as a civil engineer I'm able to work with the power system, to converse with electrical engineers. And what's really interesting is that a lot of the graduates from the Berkeley program are engineers I'm working with right now."
Lee also is extremely active with ASCE's Los Angeles Younger Member Forum, specifically through outreach events – Engineers Week, Popsicle Stick Bridge Competition, and Student Night.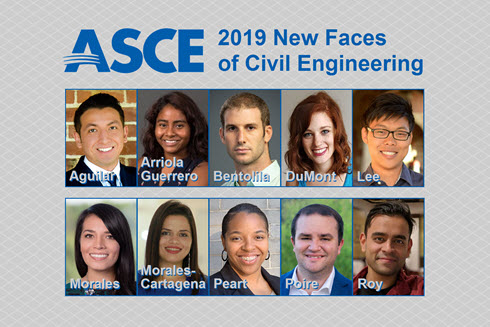 "It's probably the most amazing group of people I've ever met," Lee said. "Everyone is super passionate. All that energy, it fuels me to always try to be better."
Between fighting climate change, securing the city's energy future, and inspiring the next generation of engineers, it's almost as if Lee is living out the exact life he envisioned when he started down the civil engineering path in college.
"Yeah, things have pretty much worked out for me so far," said Lee, laughing.
"It is quite surreal back in school doing these theoretical, really self-contained projects and simulations, and now three years later, we're doing the actual simulation for the real city with real physical assets.
"It's surprising, it's exciting, sometimes a little bit scary. But there is a lot of talent out there, working to find solutions, so I'm just kind of riding this wave."
Connect with Paul on Linkedin.