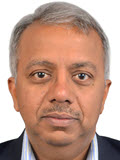 Arun Kumar, Ph.D., F.ASCE, a civil engineer specializing in water resources and hydropower engineering, and a founding scientist of the Department of Hydro and Renewable Energy (HRED), IITR, India, has been named a Fellow by the ASCE Board of Direction.
Kumar has been an integral part of HRED since its inception, and served as its head from 1998 to 2011. His vision and leadership grew the HRED into a center of excellence in the field of small hydropower (SHP) with domestic and international recognition. He has been instrumental in organizing more than 100 national and international educational and training programs at HRED by mobilizing faculty members and domain experts. He was instrumental in establishing a real-time hydropower simulator R&D facility at IITR. Today, HRED is fully equipped with state-of-art facilities through Kumar's mobilization of external financial and technical resources. He also conceptualized and led the initiative for comprehensive use of solar energy and energy efficiency within the IIT Roorkee campus.
With over 38 years of experience, his contributions to the field of small-scale hydropower and environmental management of rivers and lakes is well-recognized both domestically and internationally. He has led several performance evaluations of hydro plants and hydraulic turbines across India. He is responsible for development of comprehensive national standards and guidelines for SHP development and environmental management of lakes and rivers. He regularly appraises project proposals for the Government of India and state governments. He has also carried out cumulative impact assessment studies of hydropower projects on major Indian Himalayan rivers.
Kumar was appointed coordinating lead author for hydropower by the Intergovernmental Panel for Climate Change for the Special Report on Renewable Energy Sources. He served as an international expert in various UN assignments on assessment of SHP and capacity building in Zambia, Sierra Leone, Iran, Tanzania and elsewhere. He has also worked with international institutional collaborators from Canada, UK, Norway, Nepal, Equatorial Guinea, Zambia and Sri Lanka.
He was awarded MNRE Chair Professor (Renewable Energy) 2013-18 and served as independent director on the Board of NHPC Ltd, a Government of India undertaking, from 2015 to 2019.
During his distinguished career, Kumar has received various recognitions, including the Cash Your Ideas Award from the Central Board for Irrigation and Power, Surya Award from IIRDSS, New Delhi, Eminent Engineers Award 2016 from the Institution of Engineers Uttarakhand, Award of Excellence from the Himalaya Power Producers Association, and Eminent Engineer Award from the Institution of Engineers (India) Roorkee.
He has authored/contributed to over 100 research papers, 13 National Books/Guidelines, and to BIS Guidelines for Small Hydro Stations. He is on the editorial board of the World Small Hydropower Development report. He is Fellow of IHA; a member of ASME, AWWA, and SESI; and a Life Fellow of the Institution of Engineers(I), Indian Water Works Association, Indian Water Resources Society and IHS.
Kumar graduated from IITR, completed his master's at Indian Institute of Science, Bangalore and diploma studies in hydropower development from NTNU Norway, and earned his Ph.D. from IIT Roorkee.