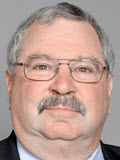 Edward Kavazanjian, Jr., Ph.D., P.E., D.GE, Dist.M.ASCE, NAE, a Regents' Professor and the Ira A. Fulton Professor of Geotechnical Engineering in the School of Sustainable Engineering and the Built Environment at Arizona State University, has been honored by ASCE with inclusion in its 2018 class of Distinguished Members for his leadership in the geotechnical field and contributions to the design of waste containment systems and geotechnical earthquake engineering.
Kavazanjian is an eminent leader in geotechnical engineering, a visionary thinker, and a powerful doer in engineering practice and academic research. He literally "wrote the book" on the properties of municipal waste materials and their behavior in earthquakes, coauthoring the EPA's guidance document for seismic design of solid waste landfills and serving as lead author or coauthor on numerous technical papers on the subject. He also coauthored the FHWA guidance document on LRFD seismic analysis and design for geotechnical features of transportation facilities.
He is the director of the Engineering Research Center for Bio-Mediated and Bio-Inspired Geotechnics (CBBG), which is opening new understandings and applications in biogeotechnical engineering. As principal investigator, Kavazanjian's role in securing funding for this project was crucial to the Center's startup, designed in part to ensure the national intellectual health of the geotechnical profession through the engagement of younger members. His willingness to devote his time and effort to this cause demonstrates his clear understanding of the importance of developing the next generation of geotechnical leaders.
CBBG is funded by the National Science Foundation, and is taking the lead internationally in establishing a field which links traditional geotechnics with biology as a means to improve the mechanical properties of soils. Kavazanjian joined the ASU faculty in 2004 after 20 years as a practicing geotechnical engineer, including 10 years with Geosyntec Consultants. Among his many awards are ASCE's Ralph B. Peck Award, Karl Terzaghi Award, and Thomas A. Middlebrooks Award (co-recipient). In 2013, he was elected to the National Academy of Engineering.
Kavazanjian served on the Board of Governors of the ASCE Geo-Institute from 2004 to 2011, and was president 2009-10. He is a past chair of the G-I Technical Coordination Council and of the Geotechnical Group of ASCE's Los Angeles Section. He is also a past chairperson of the National Academies of Science and Engineering Committee on Geological and Geotechnical Engineering and served on the Board of Earth Sciences and Resources of the National Research Council.
Additionally, he has served on the Transportation Research Board committees on Design of Foundations for Bridges and Other Structures and Seismic Design of Bridges, and as the first chair of the joint subcommittee of these two committees on Geo-Seismic Concerns.
Kavazanjian is a registered professional engineer in Arizona, California, and Washington and a Diplomate of the Academy of Geo-Professionals.