When the University of Florida concrete canoe team decided to honor Gainesville icon Tom Petty with its theme this year, the Gators' clever and excellent name for their boat was "Free Floatin'."
As it turns out, though, it was another Petty classic that may have been more apt: "I Won't Back Down."
After back-to-back heartbreakingly close runner-up finishes the last two years at nationals, the Florida concrete canoe team refused to buckle but instead broke through. The Gators won the 2019 National Concrete Canoe Competition championship, June 6-8, on the campus of the Florida Institute of Technology.
"As a team there's nothing better than realizing all the hard work you've put in has all finally paid off," said Nathan O'Donnell, a senior captain for Florida. "There's really no better feeling than that."
O'Donnell embodies Florida's resilient spirit perhaps better than anyone, having been a member of both national runner-up teams. Rather than be driven by frustration, though, he said the motivation comes in the form of wanting to pass on a positive concrete canoe legacy.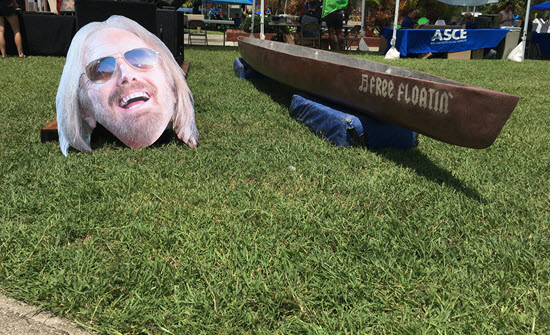 "I was provided with such a great experience my first year, from not even knowing what concrete canoe in high school to having such a great group that brought me into their family," O'Donnell said. "So I wanted everybody this year and that will come after me to have the same experience I did. I really couldn't be prouder."
California Polytechnic State University, San Luis Obispo finished second, followed by Universite Laval in third, Tongji University in fourth, and Western Kentucky University in fifth.
Florida's program has been very good for many years, winning nationals in 2015, but this was the first Gator canoe that did not use any foam in the mix design.
"Synthesizing an academic understanding of concrete with experience in researching its properties, we were able to create an incredibly light but structurally sufficient mix," said David Orense, who served as mix design captain, along with Zack Sumislaski and Shumail Zaidi.
"The desire to go above and beyond our previous mix designs and meet our team's ambitious goal of a foam-free canoe led to the creation of a concrete with a specific gravity of 0.70 and a strength of 2500 psi at 21 days of curing."
"Free Floatin'" was the longest and lightest canoe at nationals this year.
Cal Poly SLO was going for a third straight national title, having blocked the Gators' championship dreams in 2017 and 2018.
It was Laval's second straight third-place finish, and Tongji's third straight fourth-place finish.
In another quirk of recent concrete canoe history, the Ohio Valley Student Conference put its champion in the national Top 5 for the fourth straight year – Western Kentucky (fourth in 2016), the University of Akron (third in 2017), Youngstown State University (fifth in 2018), and Western again this year.
The concrete canoe final standings count four categories of competition – final product, oral presentation, design paper and races. Cal Poly SLO won final product and the overall race standings, but Florida was first in design paper and presentation, while taking second in racing and final product. Click to see all of the results.
"We spend a lot of time together. Sometimes there's a little animosity. We stress each other out at times, but at the end of the day, we're one big huge family," O'Donnell said. "We're so lucky that we have a big ASCE chapter and a lot of involvement in our concrete canoe team. Just to be able to celebrate that with all these amazing people, there's nothing better."
•
This year, for the first time, the NCCC event also featured the finals of two other student competitions: the ASCE Sustainable Solutions Competition: Dog House Challenge and the ASCE Blue Sky Competitions Contest.
The Sustainable Solutions Competition tasked college teams with designing an innovative, sustainable dog house – and race to assemble their structure. First place went to Hohai University, followed by Trine University in second and the University of Louisiana, Lafayette in third.
The Blue Sky Competitions Contest asked college teams to explore creative, visionary ideas for new student competitions.
The Universidad Nacional Autonoma de Mexico won the championship with an idea for a "floating cities" competition, followed by Brigham Young University in second and Angelo State University in third.
More on the new competitions later this month on ASCE News.