Choosing your major is one of the most important decisions you'll make in your life.
But as anyone who chooses to major in civil engineering can tell you, that decision is really only half the journey. Civil engineering encompasses so many different disciplines and focus areas.
Over the course of this school year, Robert Sprotte is going to take ASCE members on that journey of decision. Robert is a junior at Cal Poly in San Luis Obispo, California. He's a civil engineering major, and this year he begins sorting through the specifics of which civil engineering discipline he wants to specialize in.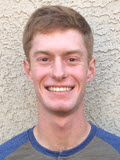 After two years of foundational courses, he's taking classes this semester in transportation engineering, structural engineering and water resources. He's also coming off a summer that saw him captain the winning team at the ASCE Construction Institute's Student Days event.
"There are a lot of possibilities, of course," Sprotte said. "I think the main thing for me is it's not just the specific discipline, but I have an idea of the kind of job and work-life balance I want in the future. So the discipline I choose is something that fits into that."
In this special ASCE News "Finding Your Path" series, Robert will be checking in throughout the year with articles and videos, updating how his decision-making process is progressing while also providing resources, advice and lessons learned for others who might be going through the same exciting but sometimes daunting experience.
Stay tuned …