The 2019 National Concrete Canoe Competition began Thursday at the Florida Institute of Technology in Melbourne, Florida, with a hot, humid, and colorful Display Day.
Display Day always is a great venue for teams to show off their creativity, with the beautiful canoes and innovative concrete mixes displayed beside thematic, often fun displays.
This year, that meant doughnut T-shirts for the UCLA team and Trojan costumes for the members of the UNC Charlotte team.
The University of Florida celebrated Gainesville's favorite son, Tom Petty, with its "Free Floatin'" canoe and display. That's not to say the Gators aren't serious about the competition, though. After two straight national runner-up finishes (finishing behind Cal Poly, San Luis Obispo both years), Florida is aiming to break through this weekend.
"I feel like with the past two years that I've been in the competition, this is definitely our strongest team, in terms of paddling, presentation and our display," said Florida's Nathan O'Donnell, competing in concrete canoe for the last time, with graduation set for December. "So I guess we'll have to wait and see and hope for the best."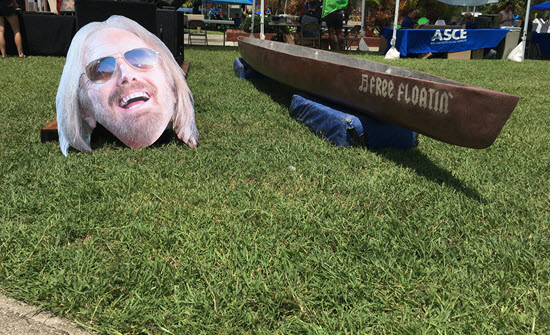 The Bannari Amman Institute of Technology is making concrete canoe history, marking the first time in NCCC history that a team from India is competing. BIT sent a large student contingent, ready to learn and compete. Their "Veeralai" canoe is huge (nearly 550 pounds), so even simple things like carrying it across campus to get a team photo is difficult, but many other schools in the field have lent helping hands, including students from Western Kentucky University and the University of Washington.
"People here have been very helpful," said one of BIT's team captains, S.B. Bnahadesh. "It's a big moment for our school. It's a big moment for India."