Back in 1998, ASCE launched a new faculty training program with a name that doubled as the goal – Project ExCEEd (Excellence in Civil Engineering Education).
Twenty years later, that program has more than lived up to its name. The numbers are impressive: 38 ExCEEd training workshops producing 910 program graduates from 267 different U.S. and international colleges and universities.
"There is a critical need to improve the quality of civil engineering education in the United States. ExCEEd has been addressing this need for the last 20 years at a quality and scale unmatched by any other program," said David Hurwitz, an associate professor at Oregon State University and a graduate of ExCEEd.
The story of the program goes beyond the statistics. It's best told by its people.
In the beginning …
Tom Lenox, Ph.D., Dist.M.ASCE, Executive Vice President Emeritus, American Society of Civil Engineers
"In the late 1990s, I was serving as the director of the Civil Engineering Division at West Point and as a member of ASCE's Educational Activities Committee. I knew that ASCE President Luther Graef had been working to gain the ASCE Board's support for a significant educational initiative focused on developing engineering faculty as effective teachers.
"President Graef's enthusiasm and passion for a faculty development initiative got my attention. In my 15 years on the West Point faculty, I had been intimately involved in my department's rigorous, annual six-week teaching preparation program for our new engineering instructors, known as the Instructor Summer Workshop. At West Point, I had also been part of a four-person faculty team in the mid-90s that received National Science Foundation funding for a one-week external version of ISW named the Teaching Teachers to Teach Engineering (T4E) workshop. Conducted by West Point engineering faculty for civilian faculty in 1996, 1997 and 1998, T4E was very successful.
"Motivated by the opportunity to help lead a faculty development initiative like T4E for ASCE, I retired from the U.S. Army in late 1998 and accepted the staff position of ASCE Director of Educational Activities. My utmost interest was to make sure that the first-ever ASCE ExCEEd Teaching Workshop was held in the summer of 1999."
Stephen Ressler, Ph.D., P.E., Dist.M.ASCE, U.S. Military Academy:
"I was involved with ExCEEd before ExCEEd even existed!
"As a civil engineering faculty member at West Point, I was directly involved with creating and teaching ExCEEd's predecessor – the T4E Workshop at West Point. In 1998, as a member of the newly established ASCE Committee on Faculty Development, I helped adapt the T4E program of instruction to meet ASCE's needs – and then I served as program coordinator for the very first ExCEEd Teaching Workshop at West Point in 1999."
Allen Estes, Ph.D., P.E., F.ASCE, California Polytechnic State University, San Luis Obispo:
"I had finished my Ph.D. and a follow-on assignment in the Army, and had just reported to West Point having been accepted as an Academy Professor. I was asked if I was willing to be a group mentor for the initial iteration of the ExCEEd workshop in 1999."
Lenox:
"(I remember) planning, organizing, and conducting the first ASCE ExCEEd Teaching Workshop for the summer of 1999 with the ASCE Committee on Faculty Development (a brand new ASCE standing committee) and the dedicated faculty of the Department of Civil & Mechanical Engineering at West Point, led by Col. Ressler.
"The conceptual plan for the first ETW was not approved until very late 1998, leaving very little time to prepare for the initial workshop in the summer of 1999. It was a once-in-a-lifetime experience for me to work under an extremely tight planning schedule with a leader like Col. Steve Ressler and the initial ETW project team.
"I will never forget their dedication to accomplishing the project on-time, on-budget, and 'ExCEEding' all expectations for high quality and value."
Estes:
"I had never seen anything like it and fell in love with the program. I knew it was something special and declared that I was all in. I totally wanted to be part of the future iterations. Twenty years later, I have been a part of 29 workshops ASCE has sponsored, and I look forward to many more. I learn something new every time and meet some great, wonderfully dedicated people."
Carol Considine, M.ASCE, Old Dominion University:
"I was a new assistant professor [in 1999] with no teaching experience. I wanted to learn how to teach. I first attended a two-day workshop that was part of the ASCE Conference, I believe, and found out about the one-week program and applied to attend the summer of 2000.
"As a workshop participant, I realized that if I implemented the ExCEEd teaching techniques, I could be the kind of teacher that I aspired to be – focused on student learning, preparing them to enter industry, inspiring students to be the best engineers they could be. I learned that by being myself in the classroom, letting the students see the true me, it helped me connect better with the students. I also learned how to prepare for class efficiently and help students focus on what they needed to learn."

A generation of fond memories and personal growth …
Tonya Nilsson, Ph.D., P.E., M.ASCE, Santa Clara University:
"(I remember) sitting in my first demonstration class and experiencing, as a student, an ExCEEd master teacher demonstrate the teaching model. I was blown away. I thought I knew a lot about teaching best-practices, but I was always trying to force active learning and problem-based learning into a lecture-style class, as lecturing was all I had ever experienced.
"It was the quintessential square peg, round hole dilemma that often made both me and my students uncomfortable. Although the workshop included two more demonstration classes that illustrated even more advance teaching techniques, the first demo class marks where my teaching world was transformed."
Brock Barry, Ph.D., P.E., F.ASCE, U.S. Military Academy:
"ExCEEd puts the work in workshop. Participants who come to ExCEEd with an open mind leave with so much knowledge and confidence in their ability to educate.
"One of my favorites was watching a former CE department head (who shall remain nameless) dress up in a monkey costume with a hard hat and a surveyor's rod just to remind participants to complete their SurveyMonkey online workshop assessment. The lengths that the workshop staff goes to, just to ensure that the participants have a great experience, is remarkable."
Considine:
"When I was a participant in ExCEEd one of my team members was teaching about phase diagrams of soil. She put live fish in the container for the phase diagram for the water portion. That was 18 years ago but it was just so unexpected.
"I kept returning every summer, first as an assistant mentor, then as a mentor and presenter. I kept going back so that I could help other faculty be the best teacher they could be also. After 18 years of being involved with ExCEEd, I still think it is the most amazing program and would recommend it for any new faculty member. I have gained so much professionally from being involved with this workshop. It has helped shape me professionally."
Camilla Saviz, Ph.D., P.E., ENV SP, F.ASCE, University of the Pacific:
"The best part about ExCEEd is sharing the joy I find in teaching with other faculty so they can improve; then seeing or hearing from them again after a semester or several years, and learning that because of ExCEEd, they now see no limit to how they can use creativity, innovation, and empathy as key elements of their teaching – and that they have great fun doing it and are better educators and researchers as a result.
"A great example – one of my colleagues, Luke Lee, has created the "structurefree" YouTube channel using principles he learned in ExCEEd.
"It's beyond exciting to hear when past participants are recognized with awards or promoted."
Tanya Kunberger, Ph.D., P.E., M.ASCE, Florida Gulf Coast University:
"This past summer at the ETW at FGCU, one of the workshop participants was actually an alumnus of our undergraduate program, who since went on to complete his doctorate and accept a faculty position, where he had just completed his first year.
"One morning midway through the workshop I had a chance to ask him how things were going. He reminisced on the classes he had taken as an undergraduate from those of us who were ExCEEd graduates, and spoke of how excited he was to be a part of the program so he could develop some of the same skills that he as an undergraduate recognized and valued in his professors."
Erica Fischer, P.E., M.ASCE, Oregon State University:
"(I loved) having people to bounce ideas off of, with regards to how I can approach and teach a certain topic. The late-night conversations in the classroom with my group allowed us all to talk about teaching and approaches and to help each other out so that we all could be most successful."
David Hurwitz, A.MASCE, Oregon State University:
"My first exposure to ExCEEd was three months before I started my faculty position at Oregon State University. I participated in a Transportation Engineering Education Workshop held at Portland State University. Ron Welch and Al Estes led a one-day Mini-ExCEEd Teaching Workshop. The training I received in that Mini-ExCEEd provided me invaluable guidance preparing for my first year teaching college classes, and motivated me to apply to the weeklong ExCEEd Teaching Workshop."
David Saftner, Ph.D., A.M.ASCE, University of Minnesota, Duluth:
"I was skeptical of some of the lessons I heard in the ExCEEd seminars, especially the suggestion to reduce the amount of material I wrote on the board. I decided to follow my mentor's advice and give it a try in my first demo class. The change was remarkable.
"My mentor clearly knew what she was talking about. Reducing the amount of detail I present allowed me to implement powerful learning opportunities into class, such as physical demos and group work. The experience inspired me to take bigger risks throughout ExCEEd and in my teaching at my home institution."
Kelly Salyards, P.E., M.ASCE, Bucknell University:
"Attending as a participant was memorable, dare I say, life-changing.
"It inspired me and gave me the confidence to return to Bucknell and try new things. I shared my experience with others, and they were intrigued as they saw the effects in my classroom and in my interactions with students. Every new faculty member hired in our department since – at least eight – have attended and it is great to share this passion with colleagues."

The need for ExCEEd …
Fischer:
"As civil engineering graduate students we do not receive any significant training in teaching. We spend four-to-eight years obtaining intensive and in-depth training on our research skills, and when we graduate we are expected to also understand how to operate a classroom, relay the topics effectively to students, and understand student learning. This program provides a civil-engineering-specific background to student learning and successful teaching techniques."
Considine:
"Civil engineers play such an important role in society. We need students who are prepared to enter the profession. Studies have shown that students leave engineering because they lose interest in the subject matter and because of poor teaching. As a teacher, I believe we have an obligation to learn to teach well and keep our students interested in the subject matter.
"ExCEEd provides new faculty with a road map, showing them how to teach well and how to keep students interested in the subject matter. I am really proud to have had the opportunity to serve my profession through my involvement with the ExCEEd Teaching Workshop."
Blaine Leonard, P.E., D.GE, Pres.10.ASCE, Utah Department of Transportation:
"First, our educational model today doesn't really teach university faculty how to teach. New faculty have to rely on the models of their own faculty and the materials they used in the classes they took. If the teaching methods of faculty, particularly young faculty, can be improved, there is a great multiplier effect on the retention of engineering students and the quality of their education.
"Second, nearly every person I have interacted with who participated in this program came away with new skills and a renewed excitement for teaching. This is good for our universities. The ExCEEd teaching method is intense and requires significant preparation. Some graduates enthusiastically modify their methods based on what they have learned. Others have told me that they don't incorporate everything they learned, but still came away with new tools and improved approaches. This is a win-win program."
Nilsson:
"During a Ph.D. program, the majority of STEM Ph.D. candidates are not encouraged to teach or pursue training in teaching. The general attitude is a teaching assistantship is what you take if you can't get a research assistantship. Accolades are given to those who publish research, not those who excel in teaching, and Ph.D. candidates do not develop a professional identity around teaching.
"As a result, STEM faculty are the least likely to believe in or apply the Scholarship of Teaching and Learning. National surveys (HERI and NSSE) indicate that lecturing is still the predominant form of instruction in college STEM classrooms.
"While our colleagues in the humanities would never consider hiring a new faculty member who did not have pedagogy training, the majority of new STEM faculty have little to no training. The pivotal 1997 study by Seymour and Hewitt, which was just repeated (final publication in 2019) with the same findings, found the number one reason students left STEM was due to the poor teaching.
"Our failure to train our faculty is hurting our students, which in turn hurts our profession. As civil engineers, we take an oath to only practice in our area of expertise and many of our STEM faculty have no expertise in teaching. ExCEEd is a bright light in addressing the shortcomings in STEM education, and it is amazing that more than 900 civil engineering faculty nationwide have completed the ExCEEd teaching workshop."
Estes:
"The college teaching profession is in such dire need of effective teacher training, and nobody else has ever done anything like this. Most workshops offer PowerPoint seminars on how to teach and don't require the participants to actually do anything.
"ExCEEd is different because we offer demonstration classes that illustrate how to teach and require each participant to teach three sample classes. The assessments afterwards are thorough and often longer than the class itself. It is very expensive and the student-to-faculty ratio is incredibly low … but it is totally worth it."
Doug Gabauer, A.M.ASCE, Bucknell University:
"ExCEEd provides effective, research-based training for those tasked with preparing future civil engineers. The immersive environment allows participants to develop and hone skills with constructive feedback from mentors. Given that specific training for teaching is not a requirement for college professors, ExCEEd provides a much-needed venue for civil engineering instructors to improve their teaching."

ExCEEd's legacy …
Lenox:
"My favorite quotation about teaching is by Henry Brooks Adams (grandson of John Quincy Adams and great-grandson of John Adams) from The Education of Henry Adams: 'A teacher affects eternity; he [sic] can never tell where his [sic] influence stops.'
"By helping engineering faculty to be effective teachers and role models of the engineering profession, ASCE has been taking explicit steps to positively influence the future of the engineering profession in countless ways that cannot necessarily be quantified."
Saftner:
"While I have only been involved in ExCEEd for five years, I enjoy watching those who have been involved longer. There is obvious pride in the long-time-ExCEEders when one of the young folks succeeds. In the often cutthroat world of academia, the ExCEEd family is a welcome break. The support network has greatly aided my professional development."
Salyards:
"Educating and inspiring the next generation of civil engineers is why many of us entered academia and to know that this week-long program improves the educational experience for so many is exciting."
Saviz:
"Because of ExCEEd, many participants – including me – have completely shifted their teaching approach from one that emphasized the amount of material covered to one that focuses on providing the structure, framework, and experiences to engage students and help develop them into professionals. Over and over again, educational research has shown the importance of having good teachers who know the material and how to present it (intellectual excitement), but also the critical importance of caring about students (interpersonal rapport) as individuals. ExCEEd emphasizes both and gives participants actual tools so they can develop their skills in each area.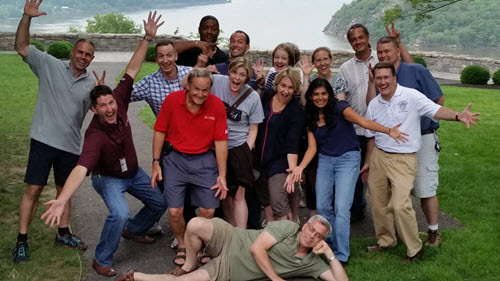 Barry:
"It really all comes down to the math. For the past 20 years, the program has been offered at two locations each summer (with some minor ups and downs). At each location, 24 faculty members are participants. The majority of those participants are early in their teaching careers … so assume they have 35 years (at least) of teaching ahead of them.
"They each teach four sections each semester and have an average of 30 students in each section. Twenty years x 2 locations x 24 participants x 35 years of teaching x 4 sections x 2 semesters x 30 students = 8,064,000 = huge impact."
Kunberger:
"I think the importance of ExCEEd can be distilled to a single point – the education of the future generation of civil engineers."
Ressler:
"ExCEEd has changed the culture of civil engineering education in the United States.
"Certain basic concepts in educational theory – like Bloom's Taxonomy and the use of learning objectives, for example – were largely unknown in the engineering education community back before 1999. Today, thanks to ExcEEd, these concepts are broadly understood and widely applied.
"Moreover, ExCEEd has created a network – I might even say a family – of civil engineering educators, who are excited about teaching and are committed to our continuous improvement as teachers and mentors to new generations of CE professionals.
"The positive impact of this sense of community is difficult to quantify, but it is very real and very powerful."