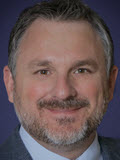 Bryan T. Veith, P.E., F.ASCE, a professional engineer with over 25 years of civil and environmental engineering experience in consulting practice, has been named a Fellow by the ASCE Board of Direction.
Veith recently completed a stint as vice president / director of client services at Brown and Caldwell's 1Water operation in Florida. Over his career, he has served in varying roles – region (multioffice) leader, office leader, design build sales/delivery lead, principal in charge, project manager, and project engineer. His project-type expertise covers potable water, wastewater, reclaimed water, stormwater, integrated water resources, and groundwater projects, including both advanced treatment and pumping stations / pipelines.
He firmly believes in developing relationships with clients as their "trusted" advisor, acting with the highest level of integrity and delivering creative solutions to responsively meet their specific needs. As well, he prides himself on his commitment to giving back to the engineering profession and the community through a variety of activities, such as engineering mentorship, introducing engineering to middle/high school/college students, fundraising for college scholarships, and Water Equation.
Veith has been an ASCE Branch Leader, and won the Suncoast Branch and Florida Section Young Engineer of the Year Award. He helped the Branch win the Zone II Outstanding Small Branch of the Year and the Newsletter of Year awards. He was awarded the Top 40 Under 40 from the Gulf Coast Business Review in 2000, and successfully opened and established several new engineering offices in Florida for two different engineering consulting firms. He has published and presented numerous technical papers, articles, and presentations.
He received his BSCE and business minor degrees from the University of Florida and an MSCE from the University of South Florida.