It's not just boats and paddles anymore.
The 2019 National Concrete Canoe Competition weekend, for the first time, featured two new ASCE student competition finals, the ASCE Sustainable Solutions Competition: Dog House Challenge and the ASCE Blue Sky Competitions Contest, at the Florida Institute of Technology.
"It's really exciting," said Danielle Kennedy, EI, A.M.ASCE, a member of the ASCE Task Committee on Student Competitions, charged with developing these new competitions during the last 10 months.
"All of the students are really happy to be here, and I'm happy to have them. A lot of them are younger, newer students who maybe haven't been involved in ASCE a lot before, so it's really great to get them involved in these competitions."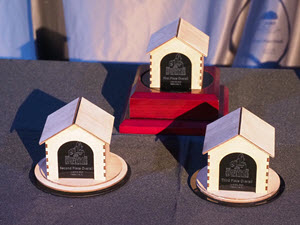 The Sustainable Solutions Competition tasked college teams with designing an innovative, sustainable doghouse – and racing to assemble their structure.
First place went to Hohai University from Nanjing, China, followed by Trine University in second and the University of Louisiana, Lafayette in third.
"It was a process of exploring new things that are very interesting," said Hohai team captain Ma Ying Hao. "We used software to analyze the impact on the environment, so for us I think that's cool. The most important thing we learned were concepts about sustainability. As the team leader, I learned how to allocate the tasks. As the leader, I have to tell them what to do and how to do it with efficiency."
Meanwhile, the Blue Sky Competitions Contest asked college teams to explore creative, visionary ideas for new student competitions.
The Universidad Nacional Autonoma de Mexico won the championship with an idea for a "floating cities" competition, followed by Brigham Young University in second and Angelo State University in third.
It was especially sweet for Angelo State, still in its first year as an ASCE student chapter.
"It feels so great," said Angelo State student Emma Reyes. "This is our first time competing at this level. We're such a small school, and we just started. We've only been an ASCE chapter for about five months.
"So it feels amazing. All of our hard work and late nights paid off in the end. We were all passionate about what we were doing, and I think it really showed."
More than 80 college teams took on the challenge of the new competitions this school year, with the annual Student Conferences serving as national qualifiers. The qualifying teams came to nationals this month – held in conjunction with the National Concrete Canoe Competition. Those teams enjoyed the Florida Tech campus, attended the welcome dinner and tour at the Kennedy Space Center with the other competing canoe students, cheered on the concrete canoe races and celebrated the weekend at the closing awards reception.
All in all, a great first year.
"I think Sustainable Solutions really had the students doing research and learning more about sustainability concepts than they had in the past," Kennedy said. "And Blue Sky gives the students an opportunity to be very creative and show their technical, computer skills and presentation skills as well.
"So I think both competitions give a good spin on what a good engineer is after you graduate and get out into the field."
Kennedy knows firsthand. She now works for the U.S. Army Corps of Engineers in the Cold Regions Research Lab in New Hampshire, having helped lead the University of Florida concrete canoe team to the national title in 2015.
What did participating in an ASCE student competition do for her career?
"Everything, I would say," Kennedy said. "I was a team captain, so it really helped with how to work with people, especially volunteers. It really helps with understanding money and budgeting and fundraising.
"Working in that team environment I think really builds character. You're working in the lab long nights while also doing your classes and your internships and things.
"I think it really helped me understand how to be a passionate, hardworking engineer."