Every spring, ASCE shines a ray of sunlight on the future of the profession.
It's the collegiate edition of the New Faces of Civil Engineering – 10 students whose early accomplishments are matched only by their remarkable maturity.
This year's class of 2020 honorees demonstrates astounding focus, ambition and dedication to helping others.
Get to know the 2020 New Faces of Civil Engineering, Collegiate Edition:
Abby Cowser
Penn State University
Cowser knew she liked engineering but wasn't sure what discipline or branch in which to focus. But then a trip to Rwanda during her freshman year changed everything.
She traveled as part of her school's Engineers in Action: Bridge Program chapter and was so moved she determined to make civil engineering, and specifically construction management, her career.
She's since traveled to Vietnam to research water quality for her undergraduate thesis and to Bolivia as part of another EIA team to build a footbridge – this time as the project manager.
"By living and working alongside rural communities for many months, I have seen how infrastructure can change the lives of everyone," Cowser said. "Even though we do not speak the same language, we proved that uniting over our mission of improving access was more powerful than words.
"Engineers are tasked with improving the lives of others, and I could not be more excited to dive in."
Matthew Cristi
California State University, Northridge
Cristi learned about hard work and ethics as a child, looking up to his single mother. Now as a senior and president of the ASCE Student Chapter at California State University, Northridge, he's turned those lessons into an exemplary record of leadership and community service.
Cristi volunteers with his family at church, serves breakfast to the homeless and has spent seven years giving his time at the Children's Hospital of Los Angeles.
His ASCE work extends beyond the CSUN Student Chapter to participating in the Construction Institute's Student Days, attending the 2019 International Conference on Sustainable Infrastructure and dedicated volunteer work with the Los Angeles Younger Member Forum. The L.A. Section honored him as its 2019 Outstanding Student Member of the Year.
In preparation for his career, he's serving as a transportation engineering intern for Psomas, working on street rehabilitation and bikeway projects.
"Growing up in a family that focuses on giving back to the community has truly shaped my life," Cristi said. "Although my life is transitioning from academics to working in the professional industry, one thing that has remained is my passion for service."
Kacy Grundhauser
University of Alaska, Anchorage
There is no doubt that Grundhauser has maximized her time and opportunities during her undergraduate years at the University of Alaska, Anchorage.
Grundhauser manages a hectic schedule that includes active ASCE involvement, work as a water intern with HDR Inc. and of course her full-time class load as a fourth-year civil engineering student.
"By the time I graduate, I strive to have built relationships with companies and individuals to diversify colleagues and grow my career," she said.
This year, she serves as the UAA Student Chapter president, while also playing important roles as her school's student representative on the boards of the Alaska Section and the Anchorage Branch. She's also done research work analyzing driving behavior on Seward Highway.
"Through these experiences, I can better understand the real-world challenges civil engineers have to face every day," she said. "Living in an 'icebox' [Alaska] was never made to come easy. As our icebox begins to melt, we are faced with evolving engineering problems that must be met with feasible solutions."
Matthew Jacobson
California State Polytechnic University, Pomona
Jacobson's love for civil engineering began at a young age when he helped his father build an addition to his grandparents' house.
"I realized I wanted to study civil engineering because I would be able to create a better way of life for others just like I did with my dad for my family," Jacobson said. "Now I look forward to the day when I can help create new homes, better infrastructure and improve the quality of life for the public."
Jacobson has already done a lot to help people through his ASCE work at Cal Poly Pomona. He's served in various roles for the Student Chapter, including events chair and this year as president. During his stint as the alumni relations chair, he planned the annual alumni golf tournament, raising $41,000 for the Student Chapter. He's also started a successful alumni mentorship program.
Additionally, Jacobson serves as one of the first ASCE Student Ambassadors, a new program that connects and empowers student leaders to raise awareness for ASCE, both on social media and on their college campuses. He prepared for his professional career last summer as an intern at Kimley Horn and Associates, working in development services and transportation.
Ryn Kalbfleisch
University of Louisville
Kalbfleisch is active with the University of Louisville Student Chapter, serving as the vice president of activities, playing a key role in forming a team for the first ASCE Surveying Competition and leading as a team captain at last summer's Construction Institute Student Days event.
Kalbfleisch proudly identifies as nonbinary (expressing a gender identity that is neither entirely male nor entirely female) and bisexual, and it was ASCE Code of Ethics' Canon 8, adopted in 2017, that helped empower her civil engineering dreams.
"Seeing gender identity and sexual orientation recognized and protected at such a high level gave me a renewed burst of enthusiasm to pursue my dreams within the field of civil engineering, even though people who look, act and identify like me aren't traditionally expected to do so," Kalbfleisch said.
They've done three semesters of full-time engineering work at Louisville Gas & Electric and Kentucky Utilities Energy. They list hydropower as their chief interest now but hopes to excel in many different areas of civil engineering.
"Once I discovered I could do everything I was interested in with a civil engineering degree, I fell in love," Kalbfleisch said. "The scale and impact of the work civil engineers do captivates me."
Althea McDavid
University of South Florida
Growing up in Georgetown, Guyana, McDavid was not sure she'd be able to follow her civil engineering dreams – at least not in the United States.
"I was fortunate enough to find the University of South Florida, which offered financial assistance to international students, and also to have parents who were willing to borrow money and use their life savings to help me," McDavid said. "I feel blessed and proud of my accomplishments."
McDavid credits her two years on the USF ASCE concrete canoe team with helping her out of her comfort zone and teaching her skills she may not have otherwise learned.
She also serves as the academic excellence chair for the National Society of Black Engineers chapter at USF.
Recently, she's worked on site development projects as an intern with Landis Evans and Partners.
"I feel like I have chosen a path that will never bore me and one that will make me fulfilled about the work I do," she said.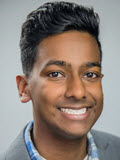 Wakil Pranto
University at Buffalo
Pranto is pursuing a career in structural engineering, having interned at HDR and Kiewit. He credits his parents, who moved the family from Bangladesh to the United States in 2000, with instilling in him a talent for adaptation.
"My father encouraged me throughout my childhood to understand the importance of a formal education," Pranto said. "He would sit me down and teach me subjects far beyond my grade level."
Pranto serves as vice president of the University at Buffalo ASCE Student Chapter as well as the mix design leader for the concrete canoe team.
He's earned the Chapter's Student of the Year and Model Member honors.
His internships have him excited about what he can contribute to the profession and the future of infrastructure. Other goals, meanwhile, hit closer to home.
"I know my father's proudest day will be witnessing me walk across the stage with my degree in a couple months, but my proudest day will be purchasing him a house near a body of water – something he has always admired."
Sofia Savoca
University of Massachusetts, Lowell
Savoca has been dreaming of a career in civil engineering since she was a little girl growing up in Caracas, Venezuela. Even a Barbie doll received as a gift for Christmas would soon get a Lego house designed by Savoca.
She reached that goal when she accepted an International Merit Scholarship to attend the University of Massachusetts, Lowell, and she has taken full advantage of the opportunity.
Savoca is extremely active in many campus groups, including the ASCE Student Chapter (vice president), Student Society for Sustainability (secretary), Chi Epsilon National Civil Engineering Honors Society, Boys and Girls Club, Lowell Earth Day Festival and more.
Last summer she interned at Stantec, working in environmental services, and she looks forward to starting in the industry soon.
"Within this noble profession, there is always something to be done," Savoca said. "Civil engineers have always been committed to satisfying people's needs in the safest way possible, while also adapting them to and caring for our ecosystems."
Maxx Taga
University of Hawaii at Manoa
Taga is still finishing his degree at the University of Hawaii at Manoa, but already, civil engineering has taken him places – to internships with NASA and Disneyland, to be specific.
"I really was able to press the boundary of what I thought a civil engineering student can do," Taga said. "The range of projects ran from anchorage design to the new incredicoaster; brine tanks to environmental water documentation of rides like 'It's a Small World.'"
Taga actually started college with the intent to be a visual effects artist and his skillset remains diverse. His movie credits as an effects-compositor include "The Revenant" and "Fantastic Four." He's worked as an analyst for Pro Football Focus and as a board-game tester.
Ultimately, though, civil engineering – especially the challenge of working toward improving infrastructure – called to him.
"I began with a narrow view of what civil engineering professionals do, and with my internships, the doors swung open," Taga said. "I am really excited to continue to see what opportunities are available. I can't wait to continue to dive in."
Mike Tormey
Northeastern University
Tormey grew up with the idea that "engineers solve problems" in his head. It's what he heard at engineering camp. It's how he understood his skillset (good at math and science) might best be applied – solving problems.
As he got older, though, and made civil engineering his field of study, he began to take issue with that mantra.
"Instead of simply applying creative engineering judgement to the solving of problems, I like to think of engineers as 'creating solutions,' going beyond technical expertise to achieve excellence for social applications," Tormey said.
Tormey has been able to apply his talents through a research fellowship, studying green space planning in Singapore and Indonesia. He worked a co-op job at the Boston Transportation Department. And he serves as the publicity coordinator for the ASCE Student Chapter at Northeastern University. All of it part of his ambitious plans for better – more holistic – engineering solutions.
Just don't call him a problem-solver.
"Rather than 'solved problems,' engineers and planners will increasingly be called on to create interdisciplinary solutions and adaptations through engaging visioning and capable implementation," Tormey said.