Kim Palmer de Rubertis, a specialist in dams in Washington state who shared his expertise on ASCE committees that produced guidelines and handbooks for dam engineering, has died at 81.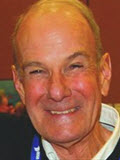 De Rubertis, P.E., CEG, D.GE, F.ASCE, was known for a passion to improve dam safety by reducing human error. In 2016, he was awarded ASCE's Rickey Medal for contributing to the advancement of knowledge in the field of dam engineering and safety assessment and for capturing the state of the art in technical guides.
After receiving a degree from the Colorado School of Mines in 1961, he began serving in the U.S. Army Corps of Engineers, stationed at Fort Belvoir, Fort Riley and the Naval Amphibious Warfare Training School in Coronado, California. In 1965, he left for a job at Harza Engineering Company in Chicago. When an assignment opened up in Iran, he moved his family there and for several years worked as resident manager for a dam being constructed on the Karun River.
De Rubertis then became resident engineer for the reconstruction of three dams on the Huron River in Michigan, following that up with work in Virginia and on the addition of a second powerhouse for Rock Island Dam on the Columbia River. Afterward, Cashmere, Washington, became his permanent home and community focus.
He went into consulting and often worked pro bono when a water well or foundation was in need of help. He performed these services in exchange for a donation to Children's Hospital. Because he loved helping people settle disputes, he also served as a commercial construction arbitrator and testifying expert.
He volunteered teaching stints at universities and taught classes for utility districts, federal regulatory agency offices and power companies. He was keen on mentoring young engineers as well.
De Rubertis received the Lifetime Achievement Award from the United States Society on Dams in 2016.